I'm going to start off with a hats off to the organizer and all the great volunteers at the race!
This was the 5th anniversary of the event and once again it was very well organized and well run!
I especially want to mention the volunteers at around mile 12 – they were putting out a huge amount of energy! Great job to you folks and to all the volunteers! I didn't see a single volunteer that didn't happy and encouraging!
And I want to give a shout out to @PrairieJenn (https://twitter.com/PrairieJenn) who was a volunteer marshal on the course. Whoohoo!
I also got to ask who the gentleman was that was running all over with a full on camera and tripod set up taking pictures of the runners and stopping to take selfies with the volunteers. I want to know how many miles he actually ran that day! He was also at Lemming Loop and I have to say his energy was awesome and infectious.
So on with my race report and to get it started I have to do a bit of a setup on my weird mental state going into it.
I was feeling very disconnected from the race frankly.
Basically all my mental thoughts on races this fall had gone into the Lemming Loop a few weeks back and since that one is over for the year my thoughts have moved on to the Goofy Challenge in January. The time window for races to use for corral placement for the Goofy Challenge has also ended so I didn't really have any pressure on this race except trying to maintain my sub 2 hour streak for half marathons. And with the Lemming Loop 2 weeks prior I wasn't going to hold my breath or expect miracles out of my legs to make that happen.
Top that off with my wife hitting the expo with the kids to pick up the race packets and I didn't even have that surge of energy to focus the brain and get me excited. I actually forgot a few times during the week that the race was coming up.
The night before the race the plan was for the kids to be dropped to spend the night at my Heather's mother's and both my wife and I would run the race. Heather was also looking at using this race as a proof of time race for corral placement for the Princess Half Marathon in February.
…but then late in the afternoon our daughter came down with a fever, not too bad, but warm enough that we didn't feel comfortable with dropping her on the mother-in-law. So we decided the kids would be staying at home instead that night. When Heather called her mother to let her know we found out that she wasn't feeling well either. So that meant that she wouldn't be coming over to watch the kids while we both raced either.
So only one of us could go race…and about an hour later I came down with a bad headache and a bit of nausea. At this point it looks like I am the one sitting out the race, which would be disappointing but as I said above I didn't have any driving reason that I HAD to do the race so I could deal.
No final decisions were made though and I was feeling better when we went to bed. So we both organized our gear and figured we would sort things out in the morning. Yep, went to bed not know which of us was going to run!
Then a few times through the night we were woken by one of the dogs being sick because he had apparently eaten some plastic. Luckily that sorted itself out and we didn't have to go to the vet, but it didn't make for a restful night sleep.
Alarm goes off and we are both feeling well – time to decide who was going to. We had a chat about it and Heather decided that she had a decent enough time recently enough that she didn't think she would be able to beat that day. So Heather decided to stay home and let me run.
After a shower and getting dressed I asked again to make sure and got the comment "I'll be jealous, but not jealous enough to get out of bed". Guess I'm running…but with the expectation that I would probably take it easy and treat the run like a training run. I was also a bit worried about my right ankle that has been acting up for the last month or so – don't want to damage it and mess up the Goofy Challenge training.
So I quickly fed the dogs and the cat and grabbed my remaining gear and got in the truck to head over to the race. Have got to love a race where you can pull out of your garage and be parked at the venue in 6 minutes!
Very beautiful morning out – a bit cool (near freezing) but it would warm up a bit later – perfect racing conditions really.
I spent some time in the main building near the race venue to stay warm and see if I could get myself psyched up and try to decide how fast I should be going. I also tried stretching my right ankle that had decided to start aching a bit.
I was waffling between trying to run with the 2 hour pace bunny, lining up ahead of the 2 hour bunny and running hard until I implode, or just running easy right from the start and take whatever time came. I had done a sub 2 hour half marathon 4 weeks prior but I also expected my legs to be a bit tired still after the Lemming Loop 2 weeks after that – I truly did not think my legs were going to have what I needed.
For some history – I haven't raced a half marathon that took me longer than 2 hours since May 2013 and I really didn't want to break that streak now but if it happened I was willing to accept it.
Now to top all of this off, I hadn't eaten any breakfast. I had been in such a rush to get stuff sorted out and out the door that it never occurred to me before I left the house. Whoops.
I had done something like that 4 weeks before for the Fort Garry Rotary Half marathon due to some g.i. issues I had been dealing with leading up to that race. For that race I didn't want anything in my belly maybe causing issues – it worked but I did tank out in that race near the end because of it.
So I really didn't expect much but decided that I would try to hit 2 hours anyway. In the start corral I lined up near the 2 hour pace bunny who was doing 10 min run / 1 min walk cycles. I figured I would give that a try and see what happens.
…then I saw the 1:55 straight run pace bunny…my brain started going ".you know…maybe line up with him and if you tank later in the race you would still have a shot at sub 2 hours…"
So that is what I did. Or at least that is what I started to do.
Once the race was off and going I found myself drifting a little bit in front of that group. But then the 2 hour 10 min run / 1 min walk group passed me…Now, logically I understand how this would happen in the first 10 minutes as the running pace for this type of split is fairly quick but after that first 1 minute walk cycle was up the 1:55 group would be back in the lead and would extend their lead from there.
Understanding it and accepting it in the race brain are two different things. So I found myself pulling ahead of that group…and feeling pretty good. Definitely felt better than I expected at that point. Ok – lets see how long I can sustain that then.
I believe I had my first stop for water around mile 3? Not sure really – I know I stopped for a cup of water 3 times through the race and that would have been about right for the first one.
I was able to sustain pretty decent speeds up until about mile 5 and then my thighs started to feel like lead but I kept telling myself to keep pushing so that I could build a buffer by the half way point so that if I tanked during the second half I still had a shot to make sub 2 hours. And push I did – at the hour mark I was something like 6.95 miles in or so. This was way better than I expected.
I was able to keep going near the same speeds until the water stop near mile 8. After I had some water there I found that I was defaulting back down around 5 mph – a big drop from the 6.8 or so I was holding down before the water stop.
At this point though I had mentally committed to being under 2 hours by any means necessary so I was able to start pushing again and got my speed back up a bit. Not fully but somewhere I was happy.
I kept at it but eventually the 1:55 pace group caught up with me between mile 9 and 10. Caught me but they weren't getting away yet even though I could tell I had a good blister going under one of my toes on my right foot.
They did slowly get ahead of me but the rubber band held me to the group pretty good for a mile or so before I had to stop quickly to deal with a pinching/scratching on my right foot that started to hurt all of a sudden. I dealt with that pretty quick but that broke my hold on that pace group and I just concentrated on making sure I kept under 2 hours.
I was fairly confident at this point that sub 2 would happen as I could drop to down to 5.5 mph and still hit it at that point, but no giving up – time to finish well.
As I approached mile 12, I started to wonder if there was something wrong with my headphones as I kept hearing these loud noises. I soon realized though that it was the volunteer squad at the water station around mile 12. They had definitely cranked it up to 11. Impressive!
It was kind of nice too that the last mile had many people cheering all along the route – looked like both volunteers and spectators. That was pretty cool and made that last chunk pretty enjoyable.
And then in the last quarter mile I was feeling pretty good and I started pushing a bit harder – I was quite surprised to see I still had it in the tank. Others had much more in the tank based on the 3 or 4 times I got passed in the last 100 meters or so.
Crossed the line and stopped my watch – under 1:57 (1:56:54 chip time). Was not expecting that at all. It wasn't a PR (1:46:00 back in 2014) but it is the strongest I have felt in a race in probably a year and a half. If I could get my weight back down 15 pounds I would be flying again!
I got the great 5th anniversary medal and went to check out the food tent. Unfortunately, the line was longer than I really wanted to wait for so I wandered back out to my truck to do the obligatory twitter check in.
Found out at that time that a fellow Winnipeg twitter runner (@PrairieJenn – https://twitter.com/PrairieJenn) had been out on the course as a volunteer marshal. Very cool – these races don't happen without a huge number of volunteers so I definitely appreciate hearing from folks that have done it. (it may be something I should look at doing next year – give a little back)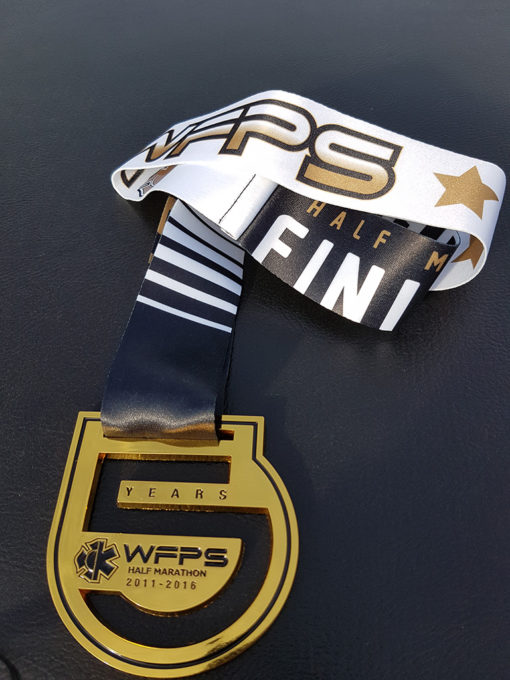 WFPS Half Marathon 5th Anniversary medal
And what were the after effects? A few blisters – the worst on my right foot under one of my middle toes. I had a blister in the same spot during the Lemming Loop and the Fort Garry Rotary Half over the last month. Both of those I blamed on one particular pair of shoes but I didn't wear them for this race so I'm not 100% sure what the issue was there. Other than I felt great after the run. I might have gotten some running confidence back.
The next day however my right ankle let me know that it wasn't happy. If I sat for longer than 10 minutes it would lock up. I ended up spending a good chunk of the day limping unfortunately.
Today (Tuesday – 2 days after the race as I am writing this) the ankle still isn't right – I did do some running around in the yard with the dogs and it seems ok to run but walking isn't great (but still very improved over yesterday – no permanent damage). At this point I am trying to decide if I run tonight or not. I have 5 miles scheduled but that might be pushing too far on the ankle, I will have to decide once the kids have gone to bed…
Anyway – to wrap this up – my 2016 race season is now over and I am officially training for the 2017 Goofy Challenge in January. I have gotten some confidence back and I am motivated to get moving and put in the work to rebuild.
Let's get started!