So a little about me – I'm 6'2" and mentally think of myself as a weight lifter even though I seem to spend way more time long distance running than I do weight lifting. (for a bit more about why I run – see the blog post)
Ever since junior high I have had issues with my weight – I was a rather large kid and even though I managed to slim out a bit in high school I was still overweight and being a pretty geeky guy that really didn't change for many years until I neared my thirties.
For more history on my running and attempts at getting back in shape see here (running history).
At some points I was around the 260 mark and then I was able to bring myself down to around 205 and then back up and then back down again. In that time I had done a half marathon in 1:46:11 and a full marathon in 4:15:01 while being able to bench press around the 150% of my body weight mark. (current PRs are 1:46:00 and 4:09:44 respectively)
Throw in getting married and having a couple kids and the resultant lack of sleep that comes with that and my weight slipped up to 270 at one point for a short period of time. For several years my weight stayed in a band between 250 and 260 and in that time I completed a full marathon as well as 2 Goofy Challenges. None of those races would be what you might consider pretty.
I had my first visit to Disney World in January 2008 – when we were trying to plan a winter vacation that year that would work with our son (who was 17 months old at the time) we decided on Disney and I leapt at the chance to do the full marathon as a way to try to get back in shape. It didn't quite work out that way (see my Running History for more info) but it did start a bit of a love affair with Disney World. (Since that first time we have visited several times staying mostly on property at all levels of hotels plus have stayed off property in a rental townhouse and I have participated in the Goofy Challenge 5 times as of January 2015 when I took part in the Dopey Challenge.).)
Finally, in September 2012 it was time to get serious and try to get myself back to where I wanted to be. I got buy in and encouragement from the wife and I started working on a plan. I signed up for the Jan 2013 Goofy Challenge, set out to drop some weight and get mileage on my shoes. I was 257 when I pulled the trigger.
I realized that at some point I had gone from being a long distance runner carrying some extra pounds to being a fat guy trying to run long distances. Up until I finally had that realization I kept trying to do what I had done previously when I was in better shape – and when it didn't work I would get discouraged and shut down and not want to train. I realized I had to go back to step 1 and start over and not compare everything I was doing with what I could do several years ago but watch the improvements over last week or last month instead. So basically the 2013 Goofy Challenge included my 6th full marathon but I considered myself starting from scratch.
To keep me focused on that, I knew that I would have to track what I was doing so that I could actually see the incremental progress. I also figured I needed to put down in words where my head was at so I could look at it and analyze what I might need to do to keep my head in the game. Those thoughts formed the basis of the concept for this blog – I wrote down and tracked what I saw and thought for a few months and then decided I would filter that and put it up on a blog and see if maybe someone else could get some use out of what I have been doing.
This was me in June 2005 around mile 22-23 – I was around 215-220 at the time and finished in 4:15:01: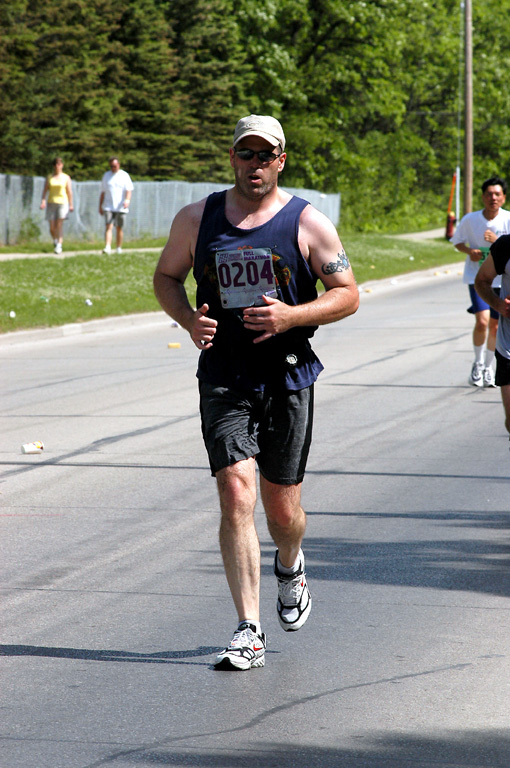 And this was me in May 2012 just before doing a 2.5km fun run with my son – I was about 260 at the time: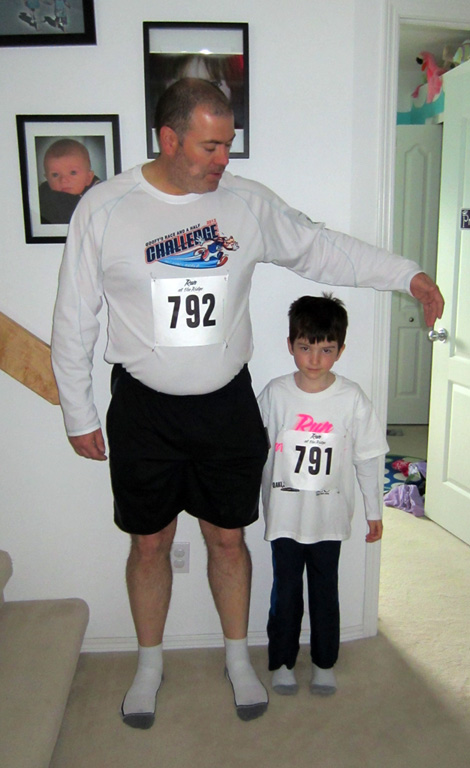 A few updated photos from 2013 races:
A don't look particularly happy on the one below but I was pushing hard for the final few yards – I don't think anyone looks really happy when sprinting…
The next photo shows only a few seconds earlier.
And near the finish of the 2013 Disney World Full Marathon (end of Goofy #3)
A sharp eye may notice that my bib says George and not Ted – I go by Ted but my official name is George.
So as of my last update on the About Ted page here I am at 18 half marathons, 11 full marathons, 5 Goofy Challenges and 1 Dopey Challenge. I also have done 2 12 hour endurance races (12 Hour Lemming Loop in October 2014 and the 12 Hour Lemming Loop in October 2015 – finished upright with 49.2785 miles and 50.33 miles respectively).
Read the blog and enjoy the story as it continues!
If you want to see some cool Walt Disney World Marathon / Goofy Challenge / Dopey Challenge pictures see my post for the 2015 WDW Full Marathon where I stopped to get 20+ character photos and still finished in 4:40:36.
Dec 2017 – I have continued to run having done another Goofy Challenge (up to 6), an additional marathon (now 13), 1 24 hour race (53.35 miles before I dropped out due to ankle issues) and a 50k. My weight has crept back up from April 2015 to Sept 2017 and I am now in the process of getting myself back down to a better running weight.