Time for a long review of the 24 hour Lemming Loop endurance race. But before I get into the long race report below I have to start out by saying thank you to the great volunteers at the race. They were always quick with encouragement and a joke – it would be easy to get a bit dark at an event like this but with those folks everything was kept light and happy. Fantastic!
The race and the aid station were amazingly well organized – I have a tendency to blow up at the races put on by Trail Run Manitoba but that is on me not on them. I recommend their races to anyone looking for races that are different from the normal in Manitoba – that is anyone looking for a race that doesn't run on Portage Ave here in Winnipeg.
The report below was fired out quickly so there could be many grammar issues.
—-
7:00 am – both dogs laying on my chest licking my face. Apparently it is breakfast time and I am not going to be able to sleep in today. I took the day off work for final prep and to try to get extra sleep before the 24 hour Lemming Loop. 10 hours to the start.
I got up and fed the dogs and helped get the kids off to school for the day.
I had the truck mostly loaded last night but I still needed to go grab ice for my cooler and do the final organization. So I went grabbed the ice and did my final prep before going out for breakfast with my wife. No coffee for me – I needed to try to be able to nap in the afternoon. I had a breakfast wrap and some bacon – nothing that was going to cause stomach issues.
A bit more organization and the kids were home from school for lunch. I had a bit of a chat with them and then went an lay down with the hope of napping.
I actually fell asleep fairly quickly all things considered but I woke up after about 45 minutes and was wide awake – I had given myself about 3 hours but apparently I wasn't going to get it.
Well, not much I could do about it so I got up, played with the dogs a bit and then got into the running gear I planned to start the race with. I then hopped into the truck for the 30 minute drive to Beaudry Park where the event was set up.
The past 2 years the event had been at the Living Prairie Museum but it originated at Beaudry Park and it had moved back again this year. I had never run at Beaudry Park before but I had done the 12 hour races at the Living Prairie Museum the past 2 years – so Beaudry was an unknown to me.
Back before I decided to sign up for this year I figured I needed to check the park out and see if I could handle the trails. So back near the beginning of summer I went out and did a few laps (fighting the swarms of mosquitos) and while the trails were a little bit tougher than the Living Prairie Museum, they were much easier than the trails at Spruce Woods Provincial Park (where I blew out of the 50k race back in the spring). The trails did have more roots to trip over due to the trails being recently recut due to flooding wrecking the old trails.
With that in mind I signed up figuring I could handle the trails.
So I got to site, backed my truck into a spot close to where the race trail came near the parking lot so that I would have to go far off the trail to grab gear and my own snacks, etc. I went and did my check in and got my race bib. I then wandered back to the truck to get out of the way of the volunteers who were busy setting up. I did scope the snacks they had and I could tell a lot of what I had brought was redundant but I was still glad I had brought them anyway – my system seems to be a bit tricky during races so making sure I had exactly what would work for me is vital.
Back at the truck I put my race bib on and set up my own aid station. I put out a beach chair, my cooler and my jugs of electrolyte drink and flat Coke. I also put my "Don't Panic" towel on the beach chair – advice that would be useful for the full race.
I put on my Hoka One One Challenger ATRs – the first pair of shoes for the race. I used these shoes at Spruce Woods and when I did my test run at Beaudry Park back near the beginning of summer. They are a trail running shoe – not an aggressive pair so they can still be used on streets if I needed to, but still trail shoes. I'm not a fan of them on the road but they have worked for me on trails before so they seemed like the perfect shoes for the race. (foreshadowing here)
So besides the too short nap and lack of sleep, my only real concern at the start of the race was making sure I didn't make the same hydration mistakes I did at Spruce Woods Ultra. So my plan was to always have a bottle with me and every lap I would finish it – I would alternate flat coke for the sugar and electrolyte drink for the salt. Making myself finish the bottle every lap would keep my conscious of putting liquids in me. I would finish a lap, rinse the bottle I was using and refill it with the same type of drink it had and then put in the cooler. Out of the cooler I would take the second bottle I brought that had already been filled with the other drink. This way I would always have a cold drink to take with me. As a bonus I would also be looking in my cooler every lap and reminding myself to eat as well.
Then 20 minutes before the start of the race, we got our last minute instructions and pep talk from Dwayne the race director. And then time for one last pit stop before we were off.
The weather was good – a decent temperature and a bit breezy in the open areas but not a concern in the treed areas.
About 20 minutes in I had my first gear issue. I was using my running watch but also was tracking the run using my phone. I was also using the phone to get pacing information and music through my earphones. I slide my phone into my running belt connected to an external battery pack so that it can go for many, many hours. Unfortunately though after about 20 minutes into the run the music stopped, basically the headphones cord was getting bent funny and getting pulled out partially which would cause the music to pause. I tried several times to fix this but it kept happening so I just kept the phone in my hand instead which would not be sustainable for 24 hours.
First piece of tried and tested gear that didn't work as it had in training and previous races.
About 5 minutes later I tripped on my first root. Not my last trip but the only time I hit the ground. That sent the phone spinning through the leaves on the trail. Definitely not sustainable.
After I finished the first lap I texted my wife as she was planning on coming out to visit the race with the kids after supper – if I caught her in time she could bring my phone holster and I could get the phone out of my hand. I had caught her in time but it would be a lap or 2 before she was out.
Second lap went well and felt good. I was going easy and feeling ok.
After the third lap, my wife was there and gave me the holster. Yeehaw, I didn't have to keep the phone in my hand anymore!
Three laps took about 2 hours including the time it took to follow my bottle swap each lap.
At this point the sun was going down fairly quickly so I grabbed my headlamp before I started out for the 4th lap.
I started run/walk cycles on the fourth lap and had to turn on the lamp about 3/4 of the way through the lap.
No drama for a while but through the fifth and sixth laps my ankles and calves were starting to revolt pretty bad. The laps were a lot slower and I was finding the bottles I was using were too small – so I switched to a larger bottle that had come in the race kit. It worked much better.
After 6th lap I figured I had to do something about my legs. So I swapped out my second gear item that hadn't worked they way they had in the past.
I put on clean socks and a pair of Nike Pegasus 30s that were well tested and had worked well for me in the past. In fact I had used them 2 weeks earlier at the Fort Garry Rotary Half Marathon and they were good then.
My calve issues cleared up almost immediately with the different shoes but the ankles issues remained.
During the 7th lap I could still do the run/walk cycles but the running portion pace tanked. Instead of being 5+ mph it was closer to 4.2/4.3 mph. Damn.
But it was at this point I discovered they had bacon at the aid station! Whoohoo! I ate a lot of that and their grilled cheese sandwiches over the race.
At this point it was pitch black outside too. It was a rare "black moon" that night – that is a second new moon in one month. Plus it was cloudy so there was no light in the woods. Damned dark.
Part of the trail was in an open tall grass field where I had really hoped I would be able to watch the stars through the night. Unfortunately it was too cloudy for that but I amused myself by turning off my headlight occasionally to enjoy the dark.
Turned out that the 7th lap was the last one during the night where I could run. Accepting that fact for now I decided to walk strong instead and put on an audio book to listen to and pushed on.
During the 8th lap I missed a corner and wandered off the trail. Luckily I caught on about 10 paces in so I didn't wander too far. Whoops. Obviously tired at this point.
The 9th lap got me over 50k and finished the audio book. I ate some pizza that they had brought in for the aid station and at around 2 am I told them I was taking a break and headed to the air mattress in the back of the truck.
I quickly changed my clothes and crawled into the back of the truck and into the sleeping bag. I had also brought a large battery booster pack and plugged in my phone, my portable battery bank and my running watch to get them all recharged.
I had positioned the truck so that the south wind wasn't blowing in at me but the way I was laying I was catching a cold breeze across my head. The rest of me was quite toasty but not my head. So I threw a blanket over my head. Unfortunately it took longer to fall asleep than I would have guessed and I kept waking up to reset the blanket over my head when it slid off.
I heard the 12 hour folks starting off at 6 am…crap I had meant to get moving around 5 or so but forgot to set an alarm. Damn. But at least I could see some stars now so I looked at those for a few minutes while I got my brain together.
So I got up and staggered around – I felt better but legs were still a bit buggered. I went to throw on my main running jacket as it had gotten cooler but as I went to put it on I noticed it stank. What the hell? Damn, I had something in my pocket – smelled like dog treats in a baggie that must have been there since a run with the dogs in the winter. Glad I brought another jacket.
Swapped that on and had a short chat with the race director before pushing out for another lap. My stomach had been growling through the nap but I just needed to get moving to make sure my brain didn't shut me down. Wake up and move damn it.
And glory be I could run. Not fast (maybe 4.5 mph) but I ran that full lap with no issues. But I could tell my blood sugar level was tanking. Should have eaten.
So I sat and had some hot tea, a cheese sandwich and a donut out of my cooler. Feeling much better now.
Lap 10 was done and based on the pacing I figured I had a shot at 100k if I could keep things moving.
Out for lap 11 – at this point the sun came up – a beautiful sunrise.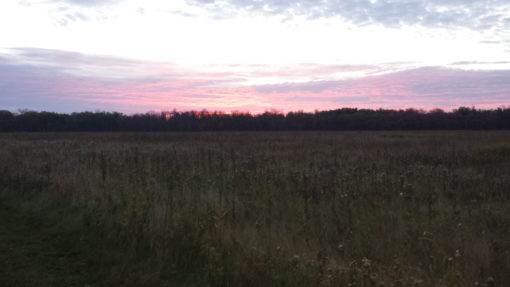 Still running this lap but getting a bit slower – running maybe at about 4.0-4.2 mph – not doing regular run / walk cycles instead just doing a short walk as needed. 100k / 18 laps still seemed doable.
Lap 12 – ankles buggered again. Was able to run some but not much or often. A strong walk actually seemed to eat more ground than the running at this point. I also now fighting some painful blisters.
So I now decided to switch shoes again. I cleaned up the blisters and put on clean socks. This time 2 pairs as the next pair of shoes were a pair of Hoka One One Bondi 3s. They were a bit oversize so I use double socks with them to prevent blisters. They are extra cushy so if I was going to be walking they should have been easier on the ankles and I should be able to get decent walking speeds.
….And a wicked blister on the bottom of my right foot after just one lap (#13). Third pair of tried and true shoes had let me down. Dammit!
So I stopped and took care of that and put back on the first pair of shoes. At this point I have accepted that I was stuck walking the rest of the time.
On lap 14 I had a nice chat with an older lady who was out at the park taking pictures…she was walking faster than I was…that was fairly disheartening.
At the end of lap 14 I sat and chatted with my wife as she had come to see visit again with the kids. I sat and ate and drank a bit as I visited and at this point I was at 49.7 miles with my longest ever event being 50.33 at last years 12 hour lemming loop. I had to get further than that so it meant at least one more lap to do that but I would then need another 3 to get to 100k. Unless I could run there was no way to make it because at this point my walking speed had dropped to closer to 2.7 mph so I couldn't even get close to the speed I needed for that.
At that point I probably had time for another 2-3 laps but I had to take it one lap at a time. So I saw the wife and kids off and started moving again.
The 15th lap was tough. I kept dropping my drink bottle – at least I had no issues bending over and picking it up…but it was not a good sign. The last mile I kept thinking it would be nice if there was a bench or something to sit down on for a bit, or maybe that area of grass over there would be good…
I finished the 15th lap hitting 53.3 miles and told them I was pulling the pin. I talked quickly with the race director and went to try to pack up my gear into the truck. I got part way through that and started to feel light headed and nauseous so I sat down on the tailgate of the truck.
I ended up curling up on the tailgate and then slowly shimmied my way onto my air mattress and stretched out a bit more. I started to feel better but was feeling pretty unfocussed. So I sent my wife a texted my wife letting her know I was stretching out and might fall asleep…and then promptly fell asleep with most of my body under the tonneau cover with just my feet and calves sticking out. I bet it looked pretty silly, but it was comfy.
I woke up a half hour later feeling pretty damned good…comparatively. I looked at the time and realised I probably had time to do one more lap. So I stood up and promptly gave up on that idea. Brain was willing but legs were unlikely to cooperate.
So I packed up and headed home for a long shower. Bonus points for being able to climb stairs when I got home.
I did a fair bit of napping through the evening and started to feel more human.
When I went to bed I went to sleep quickly and almost immediately jerked violently awake. As soon as I fell asleep, I immediately went into a dream about being back out on the trail and tripped! Then woke up trying to catch myself. That was unexpected but does speak to what my biggest concern was out on the trail as I was pretty damned tired of kicking roots by the end.
So how do I think I did? Probably the best answer is not as well as I would have liked but better than I had any reason to expect. My training just wasn't right – I did not spend enough time on trails like what was out there to figure out a good way to run and not trip so often plus I did not do enough truly long training runs.
I did do something things right however – I hydrated well and I ended the race only a couple pounds lighter than when I started so that was way better than the 10+ pounds I was down after Spruce Woods Ultra. I had also fueled well – I only had 2 points where I had low blood sugar – the lap first thing in the morning where I should have eaten before I ran and I buggered up on the last lap I did as I think I had already shut down or was just not thinking straight. Plus no runners' trots which was a phenomenal surprise!
Besides the blisters and the rough ankle on my right foot I seem to be almost 100% – my ankles look bruised and my feet look like they have a heat rash but other than that no other issues.
So at this point I had a lot of thinking to do – I am I cut out for this ultra thing? I have not done as well on the last two as I would like…but I also pulled off 50+ miles despite being severely undertrained…so maybe I can do it but I would need to focus my training much better. What does that mean though? Stop worrying about half marathon speed training? I just don't know at this point and it is going to take time to sort out mentally.
Up next is the Winnipeg Fire and Paramedic Services Half Marathon in 2 weeks and then the Goofy Challenge in January. I need to focus on training for the Goofy Challenge over the next few months and how that training goes will help me decide what I do after that….stay tuned!
To end this – thanks again to all the fantastic volunteers at the race! And thanks to the race director Dwayne for all the hard work put into the race! Awesome job once again!