I knew I was going to be trying to do a fair bit of long slow running this weekend so on Friday night I decided I should try a bit of speed work on the treadmill to get that out of my system.
I ended up doing 4 miles in 29:59 on the treadmill – solid run alternating between 2 minutes at 7 mph, 2 minutes at 8 mph and 2 minutes at 9 mph most of the time. It felt good!
Then this morning the dogs got me up early enough that I hoped I would miss most of the heat but even still it was hot and humid out there. Very draining. The smoke in the air from all the forest fires in the north probably didn't help either. It was very hazy the whole run as it has been for days here.
The picture from my cell phone doesn't really do it justice but it was quite the red/orange sun this morning!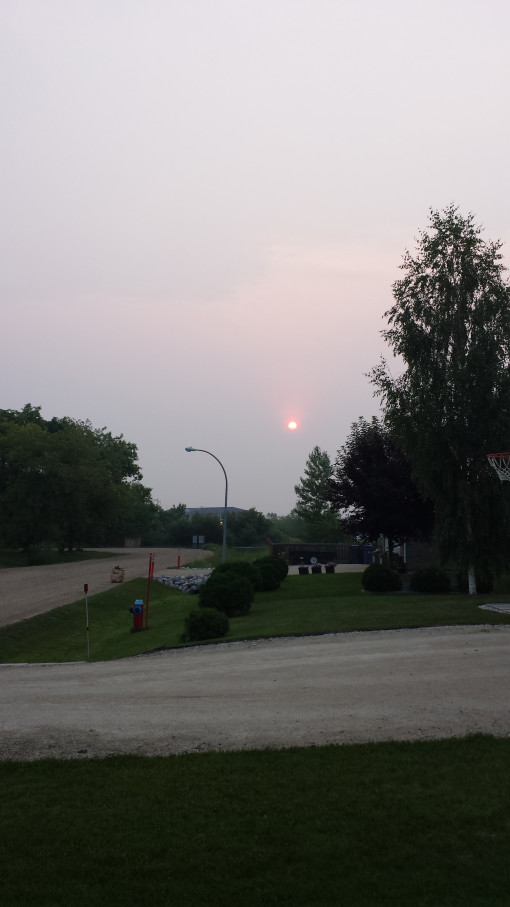 I figured this morning I would give the new Hoka One One Cliftons that I got for Fathers' Day a try – I definitely wanted to make sure to break them in before I try them on any really long runs. They did great on the run – I should have remembered from my other pair that they really didn't need to be broken in at all – felt comfortable from the first step. Love these shoes!
I knew I wanted to go slow and steady so that is what I shot for. I figured that should help keep the heat from beating me up too bad and also save some energy in the legs for a longer run tomorrow. Even still I was pretty fried by the end of the run – I am definitely not used to the heat yet – it is going to take a while.
My size doesn't help in the heat either – I had a large bottle of water with me on the run that I drank all of and I still had a 4 pound weight difference between my before and after weigh ins. (I always weigh myself before and after a long run – because of my size and how much I can sweat out on a hot run I want to know how much liquid I need to get back in my system).
In the end I was pretty steady at 6 mph with no breaks up to about the 12 mile mark before started to crash out – I ran out of water at about mile 11 which didn't help. I had to take a couple walk breaks to finish out the remaining 1.1 miles finishing up the full 13.1 mile run in 2:15:38 – definitely not fast but that wasn't the plan for today.
The plan now is to shoot for 20 miles tomorrow – I am off work on Monday too so if the heat is looking not too good I may move that 20 miler to Monday instead. But my hope is to get up early enough tomorrow and have it done by 9ish. And then have the day to lounge by the pool!